Willoughby Squash Club offers a Junior start up squad on Friday afternoon from 4-5.30pm during school term. The squad is tailored for beginners from aged 4-14. The squad is a mixture of fun games, and routines that make learning Squash great fun.
Junior players can attend casually or sign up for the term and get their own Squash racket to keep as part of the deal!
Fee – $14 weekly 
$120 for the term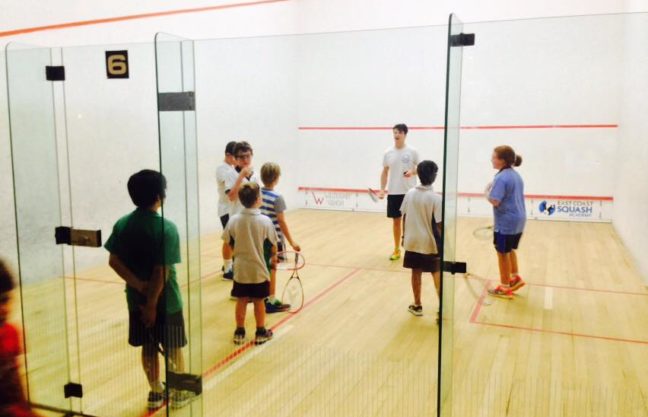 Junior Development Squads
Willoughby Squash Club in association with The Sydney Squash Academy runs more than 24 junior development squads during the week.
We believe in providing players with every opportunity to reach their potential.
To do this, we offer a complete player development pathway, which guides players through to the highest competitive level. The foundation of our program is our comprehensive player development philosophy, which builds the technical, tactical, physical and mental skills an athlete requires to compete at the elite level
Aims to take players to 'the next level' through a professional squad atmosphere. A combination of hard work, commitment and motivation is expected by all players and a desire to train both on and off the court. The Squad will focus heavily on tactics and strategy within match play, Squash-specific fitness training, footwork and movement and scenario-based drills and game play. The aim of each session is to encourage the evolution of a participant's individual style, technique, tactics and strategy, such that they can confidently compete in their weekend club matches or tournaments and handle the competitive pressure in their Squash-playing journey.
Junior Competitions 
Willoughby Squash club runs 2 Junior competitions per week.
The in-house comp is run on a Friday evening from 5.30-7pm. The comp has 3 levels. Beginner, Intermediate and Advanced. The comp is ability based and the children's age varies from 6-18. After comp we finish with a sausage sizzle, included in the comp fee.
The second comp is the NSW Squash Junior Pennant. This comp is played on a home and away basis. All comp matches are played on sat mornings. This is the biggest junior comp in Australia and is great exposure for all up and coming juniors.
Holiday Camps
Sydney Squash Academy & Willoughby Squash Club offers our "Good Sport Holiday Camp" vacation care every school holidays. The camp offers multiple sports including Squash, Racketball, Table Tennis, Touch Football, Volleyball, Soccer, Cricket and many, many more. Each day the children will do a minimum or 4 sports. The camp is run by our wonderful coaches and the children have fun and learn the basic skills from a number of sports in a safe, nurturing and controlled environment.